Abike Dabiri & Isa Pantami's Crisis Born Out Of Jealousy Or Ethnicity? (see tweets, pics & video)
Recently, the Chairman of Nigerians in Diaspora Commission Abike Dabiri-Erewa clashed with the Minister of Communication and Digital Commission Dr. Isa Ali Pantami, the battle ground was fought on Twitter. It started when Dr Pantami responded to Madam Abike's claim which was tweeted by Sahara Reporters: she claimed that Dr Pantami had used armed personnel to deny her staff access to their offices located in the building allegedly under Pantami's ministry; Dr Pantami claimed he never did such and called Madam Abike a liar, in retaliation she called him out and laughed at his PhD as if it was earned either fraudulently or lacks prestige.
Many who comment on her tweet wondered why she would attach a smiley emoji after mentioning Dr Pantami's Ph.D., some concluded she was outrightly questioning the integrity of the PhD or its authenticity. In the past some top government officials had been exposed for parading forge credentials, the most recent was the former Minister of Finance, Kemi Adeosun who forged her NYSC certificate. Madam Abike's claim would have been overlooked, but she had often claimed (and rightly so by virtue of qualification and training) to be a renown journalist – or investigative journalist trained to unearth secrets. Does she have a piece of privileged knowledge about the veracity of Dr Pantami's PhD that Nigerians are not aware of?
Others accused her of envy and jealousy for not having a PhD thus, her attitude towards Dr Pantami's Doctoral achievement. Madam Abike's highest degree is a Master of Science(M.Sc.) Degree in Mass Communication, and might be lodging a disapproving feeling against individuals with the prefix Dr. or suffix PhD attached to their names. But that would be unlikely, for she might have friends or relatives with similar degrees and cannot possible "laugh" at or ridicule their doctoral achievements. It could be something else. Could it be ethnic?
Among the several comments under her post, some refer to the facts that northerners are fond of using "audio" or fake credentials – or "affidavit" Ph.D., that maybe Dr Pantami's PhD is fake, or less prestigious and might have been obtained from any of the less prestigious Malaysian universities or less reputable universities in Eastern Europe. While Madam Abike did not state the reason why she attached a laughing emoji to Dr Pantami's PhD, Nigerians are left to speculate on what she meant or know what they assume they know about the minister of Communication and Digital Economy, or does she mean that he was given a portfolio he wasn't qualified for or what?.
Some commented that maybe the PhD might be in an irrelevant and less demanding disciple as Islamic Religious Knowledge (IRK), based on the fact that Dr Pantami is also an Islamic scholar and preacher. What is it exactly about Dr.Pantami's PhD that Nigerians are not aware of that would have made Madam Abike not to rate it. Let us take a good look at Dr Pantami's qualifications.
Dr Isa Ali Pantami studied at the same time both Islamic and Western Education and attained top qualifications in both: he qualifies as an Islamic Scholar and a teacher and is addressed as a Sheikh; he also after primary and secondary schools attended Abubakar Tafawa Balewa University, Bauchi (ATBU), where he obtained a Bachelor in Technology and Master of Science in Computer Science; he proceeded to the United Kingdom and obtained his Doctorate degree (PhD) in Oil & Gas Computing, from Robert Gordon University, Aberdeen, Scotland. I don't want to dwell on other certificates he has obtained in Harvard, MIT in the USA, and Cambridge University (UK) – all listed in the top 10 universities in the world.
Robert Gordon University Aberdeen, may not be as reputable as Oxford or Cambridge in the UK, but it is an accredited institution in the UK. Maybe Madam Abike rates only Oxford and Cambridge and Ivy League schools in the United States and not Robert Gordon University which only attained the level of a full University in 1992, whereby the University of Ife (now OAU) and the University of Lagos where she graduated from attained full university status long before Dr Pantami PhD alma mater. Or is it because the University had once awarded an honorary PhD to Donald Trump (in 2010) and withdraw same in 2015. Is it because the university is ranked 801 in the UK and 1001 worldwide according to the TopUniversities.com and Times Higher Education respectively, a ranking Nigeria universities are farthest behind!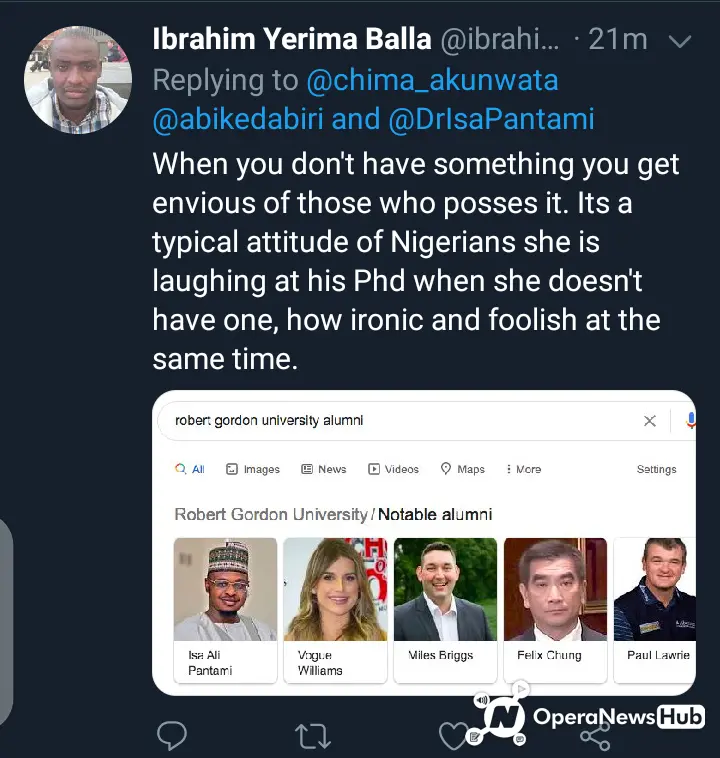 Unless Madam Abike can prove that Dr Pantami's PhD is false, that Robert Gordon University did not award Isa Ali Pantami a Doctor of Philosophy degree in Oil & Gas Computing, and that she has the fact that proves he is lying and had forged the Ph.D., Madam Abike should be disregard and her disdain of Dr Pantami reputation as a religious scholar and an expert in western education is a prove of a much deeper feud, the real reason why she was convinced that it was Dr Pantami that denied her access to her office even when he denied it; she is yet to reveal to Nigerians and unless she does that, her laughing emoji on Dr Pantami's PhD is nothing but envy and a mere attempt to undermine him before Nigerians.
Facebook Comments