Victim Of Acid Attack: She Enters A Salon But Comes Out Needing A Surgery (graphic pics)
A woman, Memuna Malik, is battling suicidal thoughts after she was drenched in an acid attack.
It was a day in December 2018 when Memuna, then 27-years old, went to braid her hair at a house in Saudi Arabia, where she was based as a casual worker.
Midway into the braiding, another woman, Salomey, stormed into the house with an acid intended for the hairdresser, Rabi.
The hairdresser and the woman were fighting over an apartment.
But in a fit of rage, she mistakenly poured it on Memuna, transfiguring her instantly.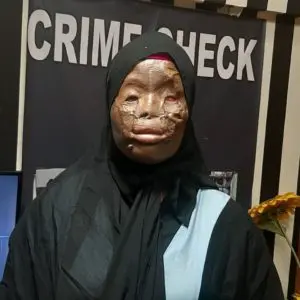 Narrating her story to crime prevention advocacy group, Crime Check Foundation, Memuna said she had to return home as she was no longer wanted by her employers.
Saudi authorities promised to arrest her attacker but Memuna says she could not follow up on the case after she was brought to Ghana.
She has completely given up on life and prefers to die. "I'd rather die than to live this painful life" she said.
Narrating her struggles since her return, Memuna said when some children saw her they started running away because they thought they had seen a ghost.
She is asking for help to seek medical treatment.
Facebook Comments