My Conflict With Pastor Adeboye, Pastor Sunday Adelaja (pics)
Sunday Adelaja is the founder and senior pastor of The Embassy of God in Kyiv, Ukraine.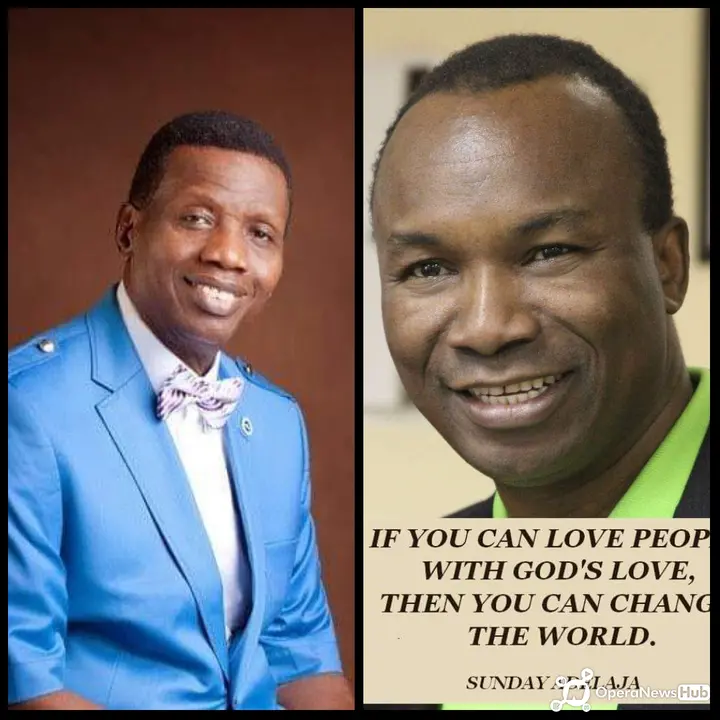 He took to his verified Facebook page to the reveal the reasons for his conflict with Pastor Adeboye.
THE REASONS FOR MY CONFLICT WITH PASTOR ADEBOYE
This is for those who say that I am fighting P. Enoch Adeboye. As a matter of fact and as seen in this picture I have had good relationship with him in the past. This article, I hope, will explain my stance in regards to Nigerian pastors.
First, I want everyone to know that I am not fighting the Nigerian church leaders. I respect them for what they have done and achieved. However, my point of disagreement is on the grounds of the truth.
The church in Nigeria has departed from the Kingdom message, but please know that I'm not against any particular pastor when I say this, I'm only against their doctrines and practices.
Ephesians 5:11 says "And have no fellowship with the unfruitful works of darkness, but rather expose them." Also, 1 Corinthians 14:29 says "Let two or three prophets speak, and let the other judge."
Whenever the Word of God is preached, those who listen must be like the Berean Christians as described in Acts 17:11, who received the word with eagerness, yet examined and judged the message spoken.
This is not to judge the individuals, but instead testing the message and the doctrine preached against what the Word of God says.
If this is done, I believe that the truth of the Word of God will be revealed and separated from the deceptive messages that are being presented within the Nigerian church.
Many people seem to have trouble with me going public to talk about the issues within the Nigerian church. Well, that is exactly what the bible said we should do.
"Do not receive an accusation against an elder except from two or three witnesses. Those who are sinning rebuke in the presence of all, that the rest also may fear."I Timothy 5:19-20 NKJV
I have not done anything unscriptural by coming on Facebook to challenge the practices of Nigerian pastors. Instead, I am doing my due diligence as a Christian to ensure the Word of God is not manipulated to serve ulterior motives.
Some people have asked me, "Why don't you talk to them privately?". I have done this already. For those who don't know, please go to my YouTube page, Dr. Sunday Adelaja and search for my messages titled "Pastor Sunday Adelaja in Winner's Chapel Nigeria" and "Sunday Adelaja in RCCG North America".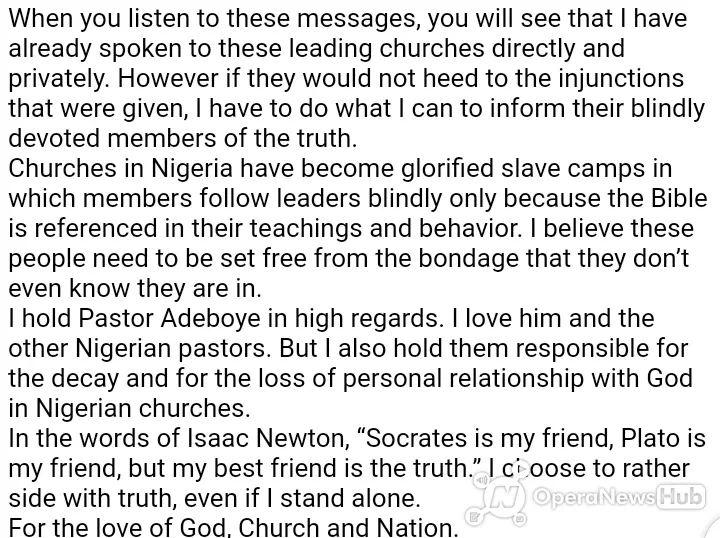 When you listen to these messages, you will see that I have already spoken to these leading churches directly and privately.
However if they would not heed to the injunctions that were given, I have to do what I can to inform their blindly devoted members of the truth.
Churches in Nigeria have become glorified slave camps in which members follow leaders blindly only because the Bible is referenced in their teachings and behavior.
I believe these people need to be set free from the bondage that they don't even know they are in.
I hold Pastor Adeboye in high regards. I love him and the other Nigerian pastors. But I also hold them responsible for the decay and for the loss of personal relationship with God in Nigerian churches.
In the words of Isaac Newton, "Socrates is my friend, Plato is my friend, but my best friend is the truth." I choose to rather side with truth, even if I stand alone.
For the love of God, Church and Nation.
Facebook Comments