APC Leadership Tussle: Is Buhari Paying Tinubu Back For Snubbing Him Over Ambode (pics)
The President has declared he would take part in the National Executive Council meeting of the All Progressives Congress. The emergency meeting was called by Mr. Victor Giadom, who has announced himself as the acting national chairman of the party following the suspension of Adams Oshiomole.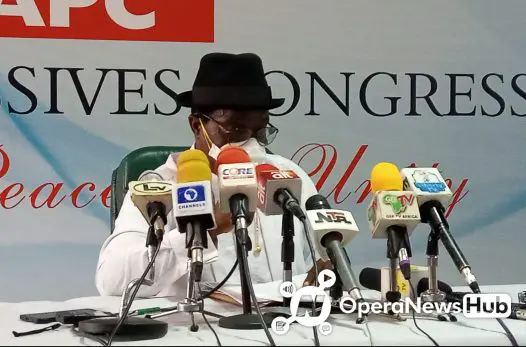 Victor Giadom.
From all indications, President Muhammadu Buhari has recognise Mr. Giadom as the chairman to the opposition of Bola Ahmed Tinubu and his faction, both of whom preferred Hilliard Eta to act on behalf of the indisposed Abiola Ajimobi.
Bola Ahmed Tinubu didn't support Victor Giadom and his faction has been making several moves to foil every attention made by Giadom to take over.
Now that the President Muhammadu has said he would attend the meeting summoned by Giadom, it means the president has recognised Giadom as the acting national chairman.
It is time for Buhari to pay Tinubu back. Let's check some facts.
During the build-up to the 2019 general elections, former Lagos State governor Akinwunmi Ambode had issues with Bola Ahmed Tinubu and his cohorts. Tinubu insisted that Ambode wouldn't get another ticket for second term in office.
Tinubu and Ambode.
Ambode went to meet Buhari to intervene and appeal to Tinubu so he could get the party ticket to run for another term in office . Tinubu appeared adamant. He didn't listen to all appeals made to him.
Tinubu snubbed Buhari. He refused to yield to the appeals made by political leaders and eventually, Mr. Babajide Sanwo-Olu was brought in to replace Ambode.
It would be right for Buhari to shun and snub Tinubu now. Tinubu could have honoured Buhari and let Ambode be.
Now, it is time to pay Tinubu back. The president has right to support Mr. Giadom and his faction and to attend the proposed meeting of the NEC.
Facebook Comments