Prominent Traditional Titled Chief, Eze Ilomuanya Reportedly Fights Okorocha On Board Peace Airline (pics)
According to Daily Post, Former Imo Governor, Rochas Okorocha and the Obi of Obinugwu, Eze Cletus Ilomuanya on Sunday clashed on board Peace Aircraft headed for Abuja after hot exchange of words.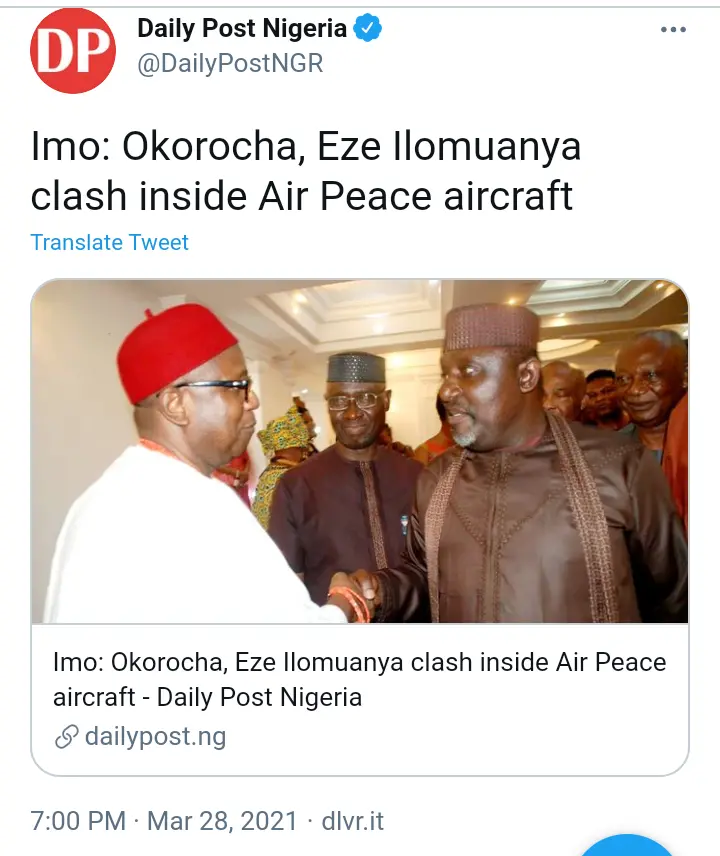 Reports have it that the Obi of Obinugwu, Eze Cletus confronted the ex-governor of Imo State who was seated next to him while onboard the plane.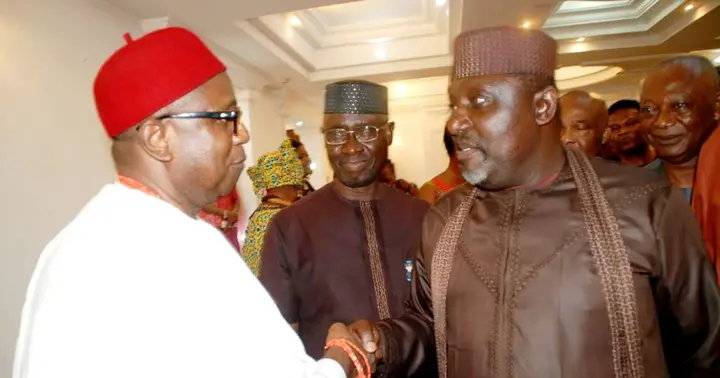 According to Daily Post, Eze Cletus hit the senator representing Imo-West Senatorial District, during the heat of an argument with his ceremonial stick, which led to the captain of the flight to give them separate seats to avoid a further brawl between the two Imo leaders.
Eze Cletus was said to have warned the ex-governor to stair clear of Orlu, which is one of Imo state's largest cities. It is alleged that the confrontation was as a result of his dethronement as Imo Council of Traditional Rulers Chairman by Okorocha, in 2011 shortly after Okorocha became governor of Imo State.
The case was taken to court and Eze Cletus lost to the then governor of Imo State.
However, In an interview with the Guardian in 2017, Eze Cletus stated that the former Imo state governor was like a dictator, alleging that "he was playing God in Imo".
"I must confess I have no personal problems with Governor Rochas Okorocha. I have no other option than to honour and respect his person and office. This I have always done, despite his calculated attempts to dishonour me.
"But what I oppose in all ramifications is Governor Okoracha's dictatorial tendencies. He is playing the god in Imo. This is not good for our people. It is also not good for the image of Imo State." he told the Guardian.
Plans are currently being made for him to reinstated as the Imo Council of Traditional Rulers Chairman by Governor Hope Uzodinma. Whatever is the reason behind the scene created on Sunday, they must always remember that they are leaders and the world is watching.
Facebook Comments