See The Full List Of Names & Location Of 62 Bandit Terrorists Groups, 17 Top Leaders In The North, As Revealed By University Don
A University lecturer, Dr. Murtala Ahmed Rufa'i, of the Department of History, Usman Danfodiyo University (UDUS), Sokoto has revealed the identities of some top bandit terrorists in Nigeria.
Apart from the individuals, he also unveiled 17 armed groups led by some of the bandits' leaders scattered across various parts of Nigeria.
The unveiling, based on many years of research was disclosed during his public lecture in a paper titled 'I am a bandit: A decade of research in Zamfara State Bandit's Den' at the UDUS' auditorium.
Naija News reports he gave the lecture last Thursday.
Tracing the historical growth of the activities of bandits in Nigeria, Rufa'i said their activities date back to many years but began to gain prominence in Zamfara around 2011.
"Banditry is not a new phenomenon in Zamfara region, because it has historical antecedents in the area. Traditional praise singers and oral historians spoke on how the activities of the bandits affected trade and other economic pursuits in the pre-colonial period," he observed in his paper.
He added that the activities of non-state security groups like the Vigilante Group of Nigeria (VGN), Yan-Banga and Yan-sa-kai forced the bandits away from the towns and central areas to the hinterlands where they regrouped and became more radical.
"The operations of Vigilante Group of Nigeria (VGN) pushed the armed groups out of towns and villages to the highly ungoverned spaces, where they established different camps in the numerous forests across the state," he wrote.
Based on the outcome of his research, some of the bandits groups he identified, their location, leader, and group strength are: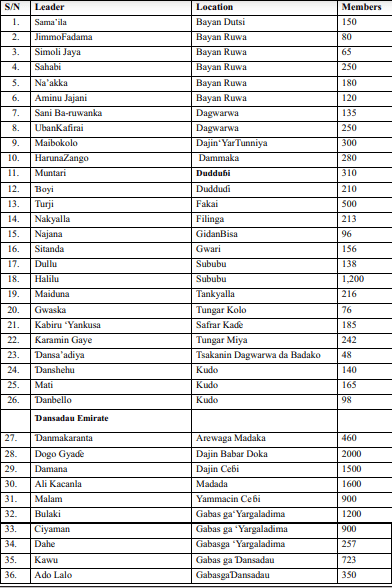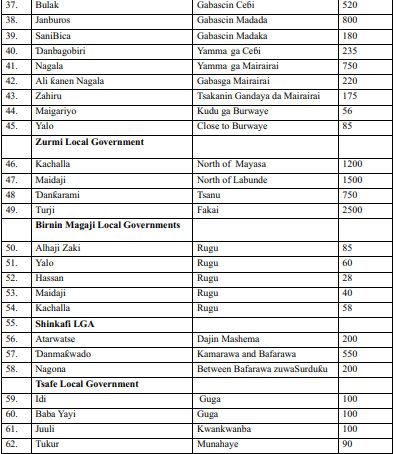 In his research, Rufa'i also gave the list of 17 armed groups and their areas of operation.
Meanwhile, bandit terrorists have released seventy-five students of Government Day Secondary School, Kaya, in Maradun Local Government Area of Zamfara State.
The pupils were abducted by the terrorists during an invasion of their school on September 1, 2021.
The development was confirmed by NTA in a post on their Facebook account on Sunday night.
Facebook Comments