Our Editorial On Chief Femi Fani Kayode's New Abode In APC (pics)
In a rather shocking and one of the greatest political mysteries, the enfant terrible and a thorn in the flesh of the Nigerian ruling party, Chief Femi Fani Kayode decamps to All Progressives Party (APC). Chief Femi Fani Kayode, a former Minister of Aviation finally left the opposition party Peoples Democratic Party (PDP).
The former minister was presented to President Muhammadu Buhari on Thursday by Mai Mala Buni, chairman, caretaker committee of the APC and governor of Yobe state, at the presidential villa, Abuja. This has put to rest the initial denial of Femi Fani Kayode popularly referred to as FFK that he will never join the ruling party. He said in December, 2019 that he will never join a sinking party in a series of tweets:
Here at Olumuyiwa.com.ng, it did not come as a surprise that FFK would soon join the ruling party, In recent times, he had been meeting and hobnobbing with some of the prominent members of the ruling party. He had at various times. in publicised pictures visited the Chairman caretaker of the ruling party, Governor of Yobe state, Mai Mala Buni. Governor of Kogi state, Yahaya Bello and Governor of Zamfara state Bello Mutawalle ( who recently decamped from the ruling party.
He was among the dignitaries that attended the high octane wedding of the son of President Buhari's son, Yusuf Buhari and Zhara Bayero in the ancient city of Buhari. We bring you some of the recent pictures of Chief Femi Fani Kayode and some of his rapprochement with top APC politicians.
These are some of the conflicting remarks he made against some of the prominent members of the ruling party:
In 2016, as the then spokesperson of the presidential campaign of the PDP, he said he would never join the Buhari-led APC.
He made the comment after spending more than 60 days in detention, following allegations by the Economic and Financial Crimes Commission (EFCC) that he laundered money to the tune of N4.9 billion.
He also rubbished the insinuation that he had apologised to Buhari and might be willing to return to the APC.
'APC is Almajiri Peoples Congress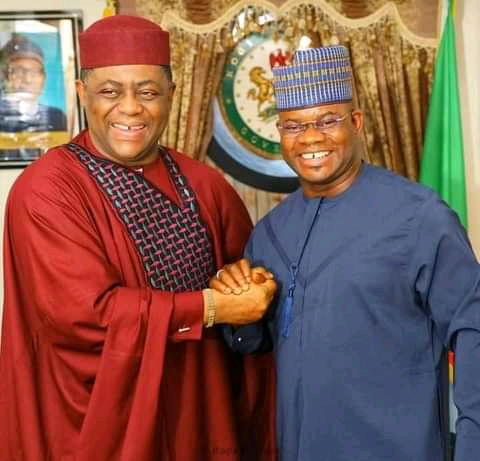 "Those that believe that Yahaya would fix 20 billion Naira of public funds in a fixed deposit account do not know him.
"He is a man of profound decency & integrity. I am sorry for those that are peddling this falsehood. I advise them to try something else: this one has failed!
"I have faith and confidence in my friend and brother Gov. Yahaya Bello. He NEVER paid 20 billion in a fixed deposit account.
"Those that are peddling these specious lies & slanderous falsehood are agents of Satan from the pit of hell. Their attempt to discredit and destroy him has FAILED!" FFK to Yahaya Bello
This is a quote of what FFK said about the minster of Communication, Isa Pantami
"This self-seeking and fanatical monster and cold-blooded and heartless beast who regards himself as a high standing member of our community and who constantly and disrespectfully refers to Christians as "unbelievers" should be arrested by the authorities like a common criminal, stripped naked, put in chains, placed in a tiny monkey cage, paraded before the public, tried in a court of law and made to spend the rest of his sorry life in that facility for his undying and remorseless support and love for terrorist organisations like Al Qaeda and the Taliban".
But in a new development, FFK has changed his tunes
He believed that "it was time for him to cross over to join hands with the president in moving Nigeria forward". The point is that I felt it was time to do the right thing, to put Nigeria first and appreciate the efforts that have been made, particularly in the last couple of years in terms of security; fighting insurgency and terrorism,"
"It is not always negative and when the time is right, we change direction to join forces and join hands to move the country forward.
"Doing this doesn't mean we are enemies to anybody. Even if we are in another party, the PDP or any other party or group, we can still work together across party, regional, ethnic or religious lines."
He added:
"It is absolutely clear to me that the perception that we had in the past, that many people had, is clearly wrong," he said. "We can work together, we can come together, we can build bridges, we can effect unity in this country.
"A man that I believe would not listen to anybody else in the past, I was quite wrong on that. With his receptive ears, his reception, and those around him; I have seen that definitely this is a man that one can work with provided you go through the right channels."
We are not in a position to begrudge him for exercising his political and democratic rights of freedom of movement and expression, Chief Femi Fani Kayode should have been more circumspect that he joined the ruling party for his personal gains and aggrandizement. He should not beduffled Nigerians that all is well in Nigeria. Most of the national crises like banditry, kidnappings, insecurity, hunger, diseases, and hopelessness that Chief Femi Fani Kayode spoke about are still ravaging the nation.
We wish him luck in his new found abode